Rajdeep did something weird while promoting his book back in 2014. 
Rajdeep Sardesai claims to be a foot soldier journalist and has developed his image as Prime Minister Narendra Modi's critics. He often plays a key role in promoting anti-BJP campaigns triggered by Congress and left-liberal intellectuals.
There's a lot to disagree when it comes to his work and political commentary. Even his narrative in two of his books is something worth debating.
I came across something weird while watching one of Sardesai's book promotion interviews from 2014. This is the same book on which the author's name is bigger than the title on the book's cover.
While promoting his book-"2014: The Election that changed India," Rajdeep preferred to focus on something weird. It's obvious, his book is based on 2014's Lok Sabha polls. But during interaction with journalists, he preferred to narrate how his vehicle was once stopped by a mob near Gujarat's Gandhi Nagar while coming back after interviewing the then CM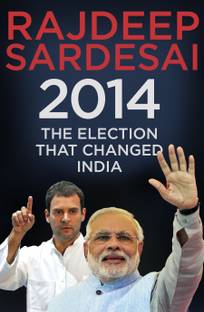 Modi.  According to Sardesai, people in this mob wanted to check if men in the vehicle were circumcised in order to unveil religious identity.
Linking circumcision with one incident in the book seems fair enough. No doubt, there are positive as well as negative effects of circumcision. But, claiming that every rational person gets that done or proudly saying-"I am circumcised" while promoting the book does not make much of a sense.
During certain interviews, the senior journalist highlighted that he's circumcised. In his book, he has pointed out that it's important for male hygiene and rationalists often prefer to get their kids circumcised.
Everyone knows that circumcision is compulsory when it comes to followers of Islam and remaining uncircumcised is considered as a crime. By suggesting that every rationalist believes in getting the same performed on his kids, has Sardesai highlighted how some rationalists are brainwashed to follow Islamic practices? This is something that people need to contemplate about.
Love to Listen? Then play below: