Believe it or not, Locust Warning Organization officials from India visit Pakistan every month without proper permission from the central government!
Desert locusts are grasshopper-like insects that are mostly found in desert regions around the world. Africa, Egypt, and some Asian countries, including India, are home to these insects. It's one of the most destructive creatures on this planet. Even the Bible and Quran describe it as something that can bring terror, destruction, diseases as well as death. Millions of people have died due to starvation triggered by swarms of locusts.
They spread like fire that and can destroy everything that comes in their way.  They look for green spots and touchdown accordingly. They grind the vegetation. Every locust eats as much as its body weight on a daily basis. As far as India is concerned, they attack between June and November and eat almost all types of trees, plants as well as houses made from wood.
Desert locusts are just like grasshoppers. The only difference between the two is the way that they react in the crowd. Their appearance changes while in the group. They eat poisonous plants and turn into a destructive force. Thankfully, during the green revolution as well as the 80s and early 90s, India has managed to find ways to deal with desert locusts.
---
---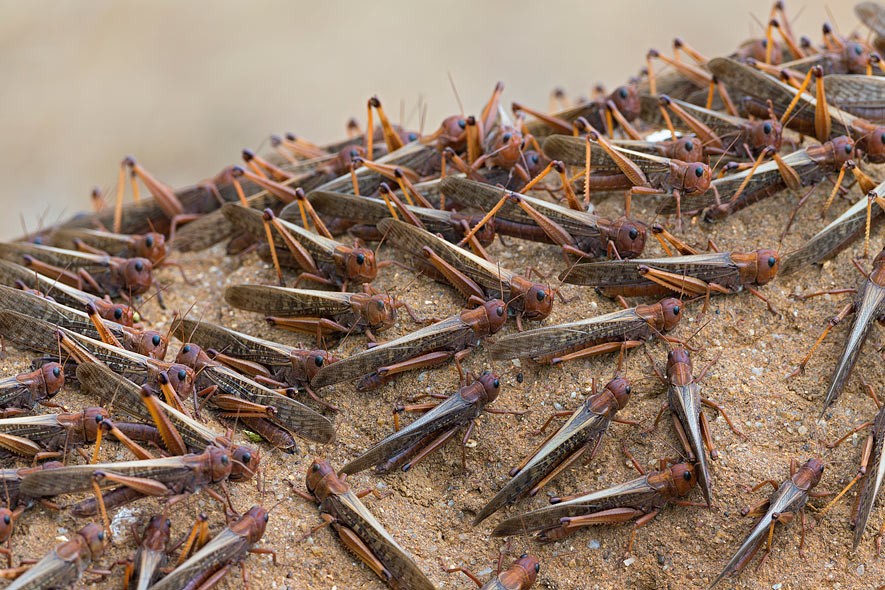 ---
BSF DIG Pratul Gautam objected to officials from Locust Warning Organization visiting Pakistan
Located in Rajasthan's Jodhpur, India's Locust Warning Organization is in the limelight these days as BSF officials have objected to Locust Warning Organization's officials who visit Pakistan every month. BSF officials were surprised when Locust Warning Organization's representatives failed to show any permission related documents from central government that allowed them to enter Pakistan every month.
According to the news published by Rajasthan's local newsgroup, representatives from the concerned organization visit Pakistan several times each year since 1972 and vice versa.
According to the data available on Food and Agriculture Organization (FAO) of the United Nations website, Locust Warning Organization's last major operation was conducted in 1993. Incoming swarms from Arabian Peninsula were dealt with the help of multiple planes loaded with insecticides at that point. But, the department has not done much after the offensive.
(FAO Commission consists of four countries from Southwest Asia- Afghanistan, Iran, Pakistan, and India)
During the monsoon, locust units' officials from India and Pakistan conduct a special meeting and share information about locust infestations and operations conducted to control the same. Besides this, every month, officials from India's Locust Warning cross the border and meet Locust Warning center Pakistan's experts. BSF team accompanies them every time.
During the last week, BSF DIG Pratul Gautam asked the Locust Warning officials to present documents issued by the central government that empowered them to cross the border. Surprisingly, joint Director for Locust Warning Organization (Jodhpur), Dr. JP Singh interacted with journalists and said the document is pretty old and thus his organization is unable to find the same. Officials checked their old records at Jodhpur as well as Faridabad (Haryana) office and were unable to find the papers issued by the central government in 1972. Thus, they released letter from their top officials confirming that the original document procured in 1972 is missing.  BSF officials have now forwarded the concerned report to Delhi to get more clarity on the same.
As the destruction caused by desert locusts was a serious issue during the 1970s, bureaucrats from India, as well as Pakistan, use to conduct meetings either in Delhi or Karachi. Later, officials started holding meetings in Pakistan's Khokhrapar and India's Munabao (Rajasthan) areas instead of both capitals.
Without beating around the bush, one must agree that India has found ways to deal with desert locust, thanks to advanced pesticides. Neither India nor Pakistan is a pro when it comes to agri-technology or desert locust management.  The problem is history now. So, what's the need to allow officials from both countries to conduct meetings, especially, when the central government probably does not even seem to be aware of the same? Let's hope that the central government addresses BSF's concern and checks precisely what these officials have done during their meetings held with Pakistani counterparts.